What is Opportunity Culture?
Opportunity Culture extends the reach of excellent teachers and their teams to more students, for more pay, within recurring budgets. OC helps teachers to continue to make a direct impact on ALL students while also providing teachers with opportunities to increase their responsibilities. For more information visit the Opportunity Culture Website.
Key Principles
Teachers lead the way. Each Opportunity Culture school creates a team of teachers and administrators who decide which aspects of the model fit their school best.

Many more students are reached with excellent teaching. Excellent teachers—those who typically make about 1½ years of progress each year with their students—reach more students directly or by leading teaching teams.

In most cases, large, permanent pay supplements are funded through reallocations of current school budgets, making the higher pay sustainable.

Teachers gain more protected, school-day planning and collaboration time, achieved through careful scheduling, and clarity about how to use that time.​

Accountability matches the responsibilities of each person. Teachers can focus on their best subjects and roles, with accountability matching what they take on.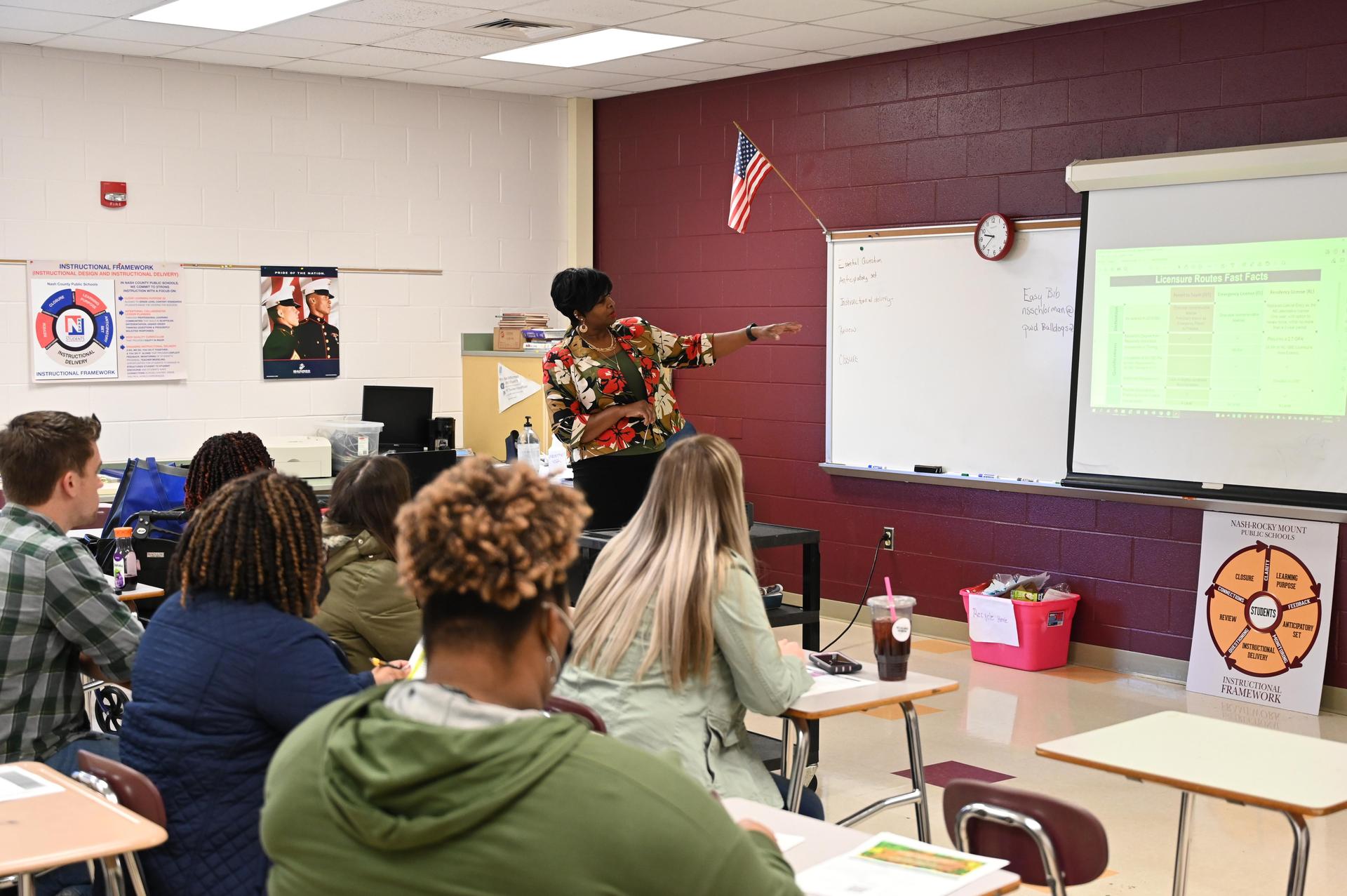 Why Should You Join Opportunity Culture?
Opportunity Culture schools offer innovative team-based roles that allow teachers to lead from the classroom, learn on the job, pursue teaching excellence together, and earn significantly more for reaching more students. All roles are funded sustainably at the school level, rather than with temporary grants.
Nash County Public Schools is committed to providing all students with the best possible educational experience from excellent teachers and teacher teams. We value teachers and commit to paying teachers more who extend their reach and positively impact student learning, and we will provide protected time and clarity for planning, collaboration, and development of all staff.
Opportunity Culture Roles: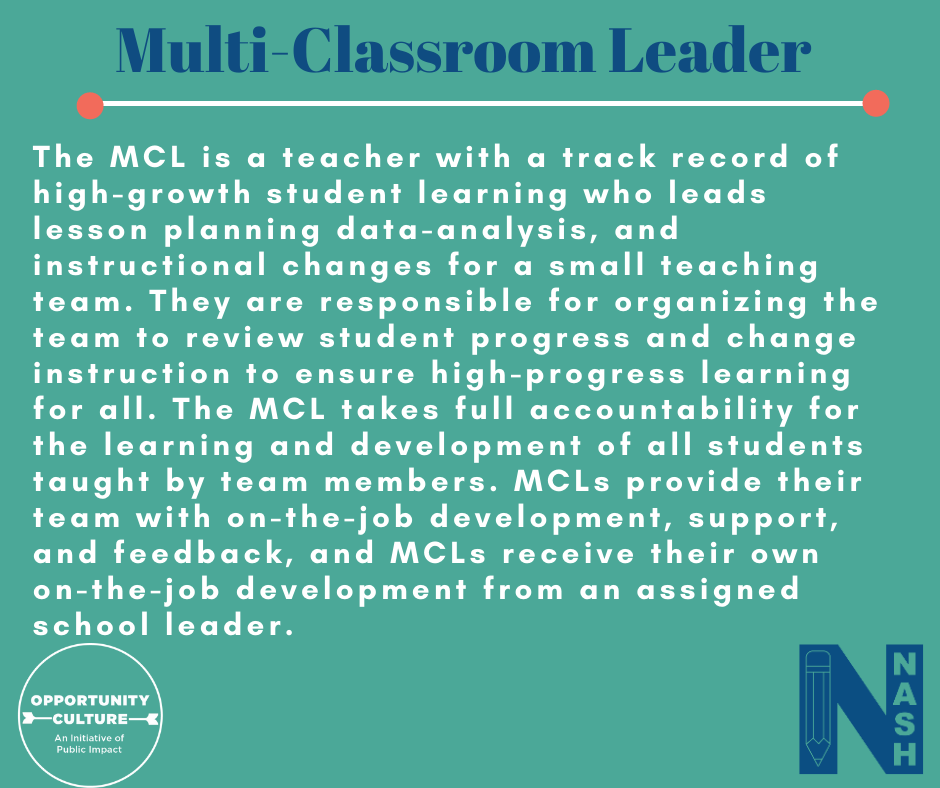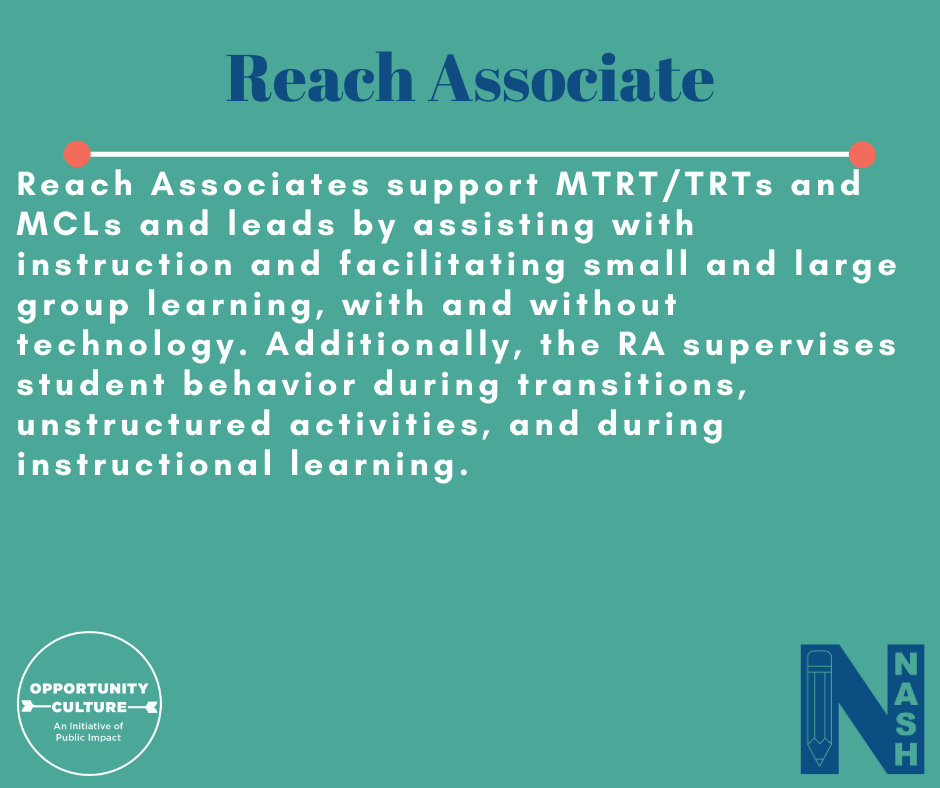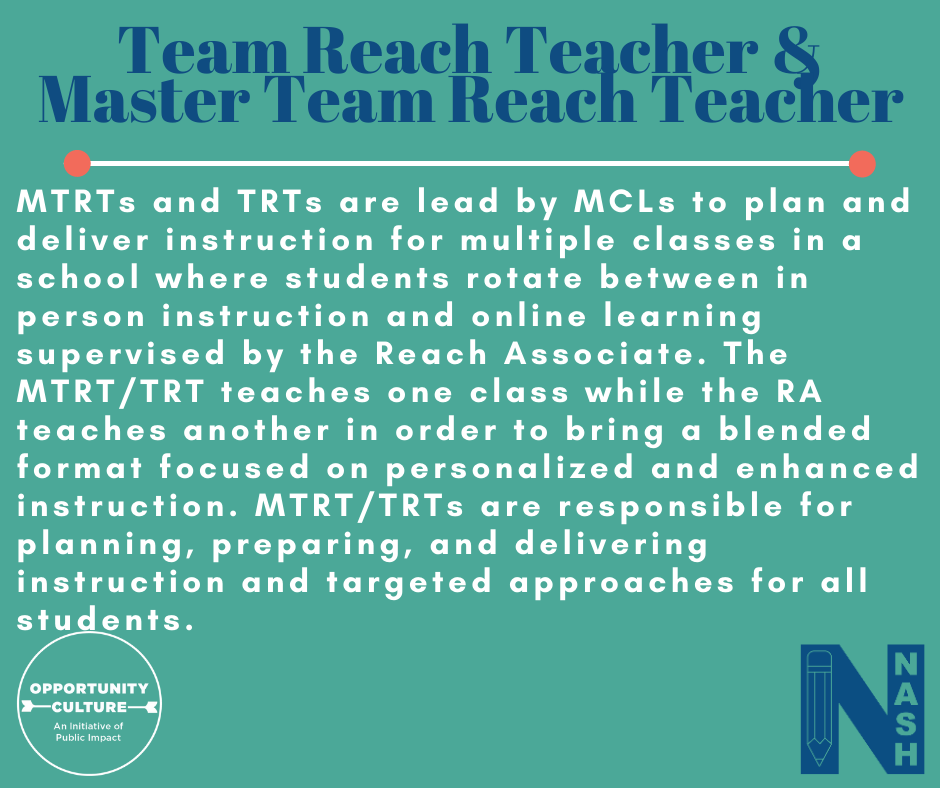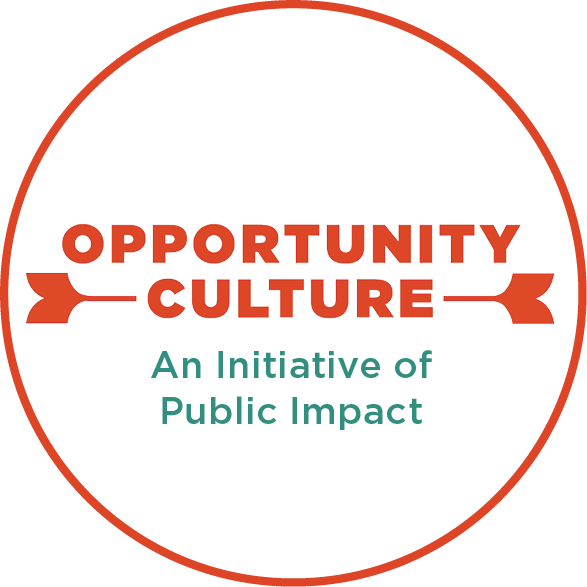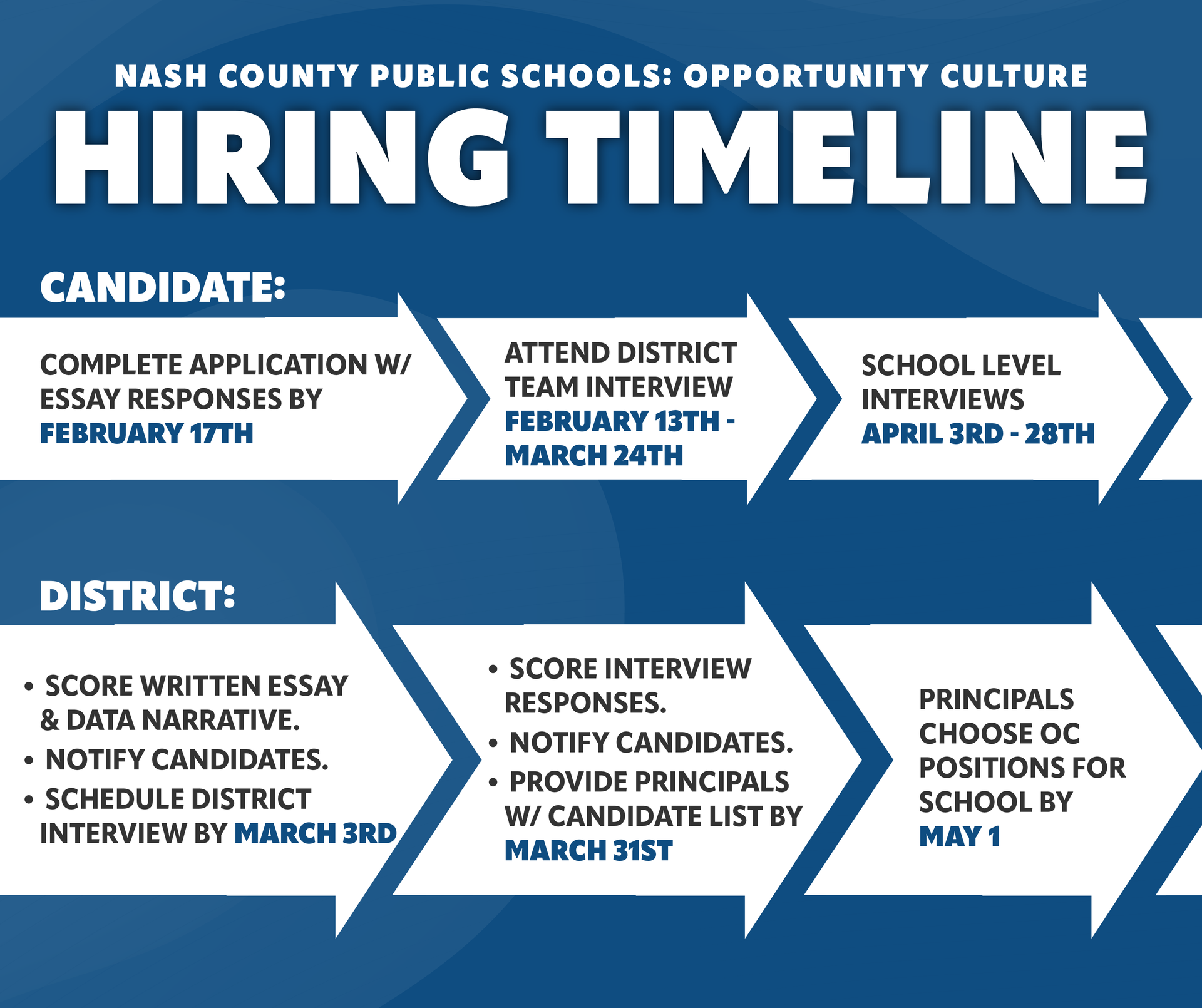 Nash County Public Schools is excited to expand the reach of Opportunity Culture with a second cohort of schools joining the program. As these schools begin designing their plans for the upcoming school year, the district will begin the hiring process for educators interested in advanced teaching roles.
There will be an upcoming information session on ZOOM on January 25th from 4:15-5:25.
Zoom Link: https://publicimpact.zoom.us/j/89420789763...
NCPS Teacher Career Ladder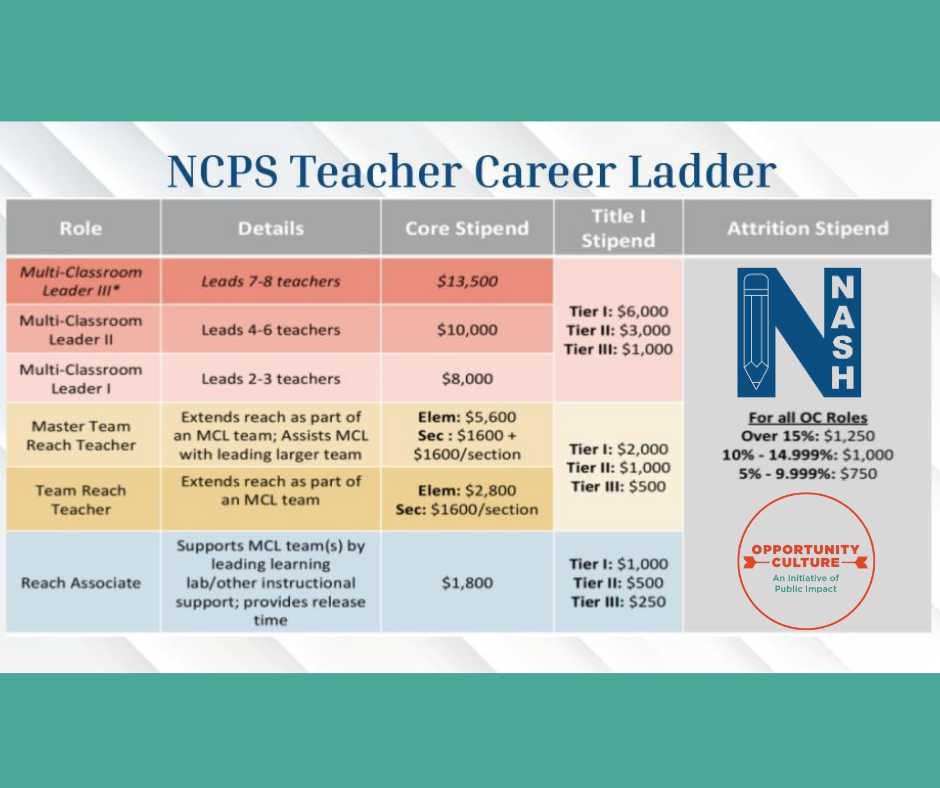 About Us
Nash County Public Schools is part of a growing, national Opportunity Culture movement to extend the reach of excellent teachers, principals, and their teams to more students, for more pay, within regular school budgets. That means great opportunities to have a fulfilling career path full of support. #HighExpectations4ALL #NCPSStrong
Mission:
Nash County Public Schools commits to high quality academic and social experiences for all.
Motto:
#HighExpectations4ALL
Core Values:
Nash County Public Schools values:
Empowerment: When we elevate others to succeed, we all win.

Achievement: We inspire each other to create our best work and achieve our maximum potential.

Social Responsibility: We are committed to building an encouraging, caring and supportive community.

Growth: We value mutual success through a culture of innovation and continuous improvement that inspires academic, social and emotional growth.

Embracing Diversity: We engage fearlessly recognizing different views and experiences are an advantage.

Equity: We respect and value people of all backgrounds and embrace equal access to opportunity for every person. Together we can create a more equitable world.
Vision:
Nash County Public Schools will empower all students, parents, staff and community partners to work together for global connections, innovative opportunities and a transformational culture.
Where are the OC Schools in our District?
Cohort One Schools
Englewood Elementary School
Williford Elementary School
Winstead Avenue Elementary School
Edwards Middle School
Parker Middle School
Cohort Two Schools
Fairview Elementary Schools
Coopers Elementary
Bailey Elementary
Middlesex Elementary
Red Oak Elementary
Upcoming Event
Information Session for interest in Multi Classroom Leader and Reach Associates Positions Link to Join
Past Events
Zoom Information Session - April 7, 2022
Contact Us
NCPS Social Media: